We have created digitally enhanced reproductions of all of Henry Taunt's illustrated maps.
Map 22 on the left is of the Thames from Medmenham to Hurley and Marlow.
In 1893, Henry Taunt was elected as a Fellow of the Royal Geographical Society. This was a considerable honour, no doubt, in recognition of the remarkable feat of cartography and accuracy of measurements that featured in the 'New Map of the Thames'.
Every landmark down the river is carefully measured. We learn, for example that Henley Bridge is 46 miles, 7 furlongs and 53 yards from Oxford..... This information was not simply borrowed from the Ordnance Survey maps of the day.Taunt explains: "These distances were carefully chained along the towing path of the river."
The river was coloured by hand on every one of the thirty-three pages and each tiny photograph was pasted into position individually. Map pages and printed text then had to be bound together.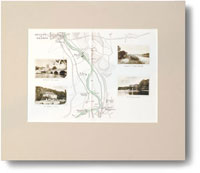 Our reproductions are printed on archival quality 320 gm cartridge paper. They are mounted on board 14" X 10" and faced with a bevel-cut mount, with 9.75" x 7" window - see specimen.
All maps and their accompanying photographs may be seen at the exhibition and in the book.
Note: all images on these web pages are subject to copyright. Please view copyright details in the Catalogue.